Bake texture maps from hi-res onto lo-res geometry, in Modeler, without any extra setup. Simply select your (optionally surfaced) hi-res geometry as one or more BG layers, and your UV mapped lo-res geometry as one or more FG layers, and start baking.

The plugin can bake a range of individual surface channels, tangent and object space normal maps, ambient occlusion and more.

When surfacing hi-res geometry it can take advantage of most surface editor features, that make sense for unlit baking. Like for example multiple texture layers, procedurals, UV projection and LW[9]+ nodes. Functionality that usually gets lost when using baking applications outside of LW, even if they can import LWO files directly.

Even if you prefer hand drawn color and specular maps, you may still find it useful to apply different surfaces with bump maps, using procedural textures or UV mapped images, to easily create varying detail bump on the normal maps.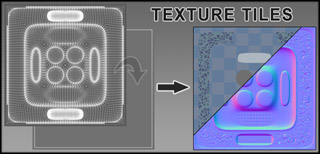 It can also be used to create texture tiles or sprites and billboards, by using a simple quad as the low-res mesh.

The texture baker was made for creating game content, but is of course not limited to that. It can also be used for reducing polygon counts in 3D scenes for offline rendering, however plugin functionality and workflow is influenced by its main purpose to create game content.


---

Click image to watch (flash)
(MP4 direct link for HTML5 or DL)

Click image to enlarge
---
Overview
Bake in Modeler without any extra setup (aside from providing appropriate hi- and lo-res geometry through FG and BG layer selection). The goal has been to make the workflow as simple as possible and to keep the number of technical configuration parameters at a minimum.
Support for a range of surface channels and other output maps (color, specular, normals, ambient occlusion etc.).
Hi-res geometry can be surfaced using the classic surface editor, and/or the LW[9]+ node editor.
Multiple UV maps can be baked at once (UV maps are individually configurable to be included or excluded from baking, output dimensions and quality etc.).
Configurable coordinate mapping for generated normal maps, and multiple vertex normal generation. methods, to be compatible with different environments and game engines.
Saves the plugin configuration alongside each LWO file, which makes it easy to return to an object at a later time and pick up where you left off, without remembering parameters.
---
Plugin
Module
LW
Platform

Size



Texture Baker v1.41 (2018-01-12)
Modeler
8 - 2018
WIN32 / WIN64

660 kb
Download
MAC UB 32/64
OS X 10.4+

702 kb
Download
---

Commercial licenses are sold separately from the full download above. A license purchased for version 1.x includes all point releases. That means all 1.x to 1.y upgrades are free, you can simply download a new release (from the download link above) when available. A license is valid for all available platforms.

Refunds on licenses are not possible due to technical reasons, so please take your time to evaluate properly before purchasing a license.

After purchasing a license option you will receive an email with a license key (or several where applicable). Licenses should normally be sent out on the same or the next business day, but may on rare occasions take a little longer as they are manually processed.

Commercial licenses, except the Unlimited Site license, are transferable (and can be done so per seat). Note that a new owner must have an e-mail address, because licenses are personalized and sent through e-mail. For license transfers and licensing questions, mail support@blytools.com.

For further details see the End User License Agreement (EULA) which can be found in the download package or can be viewed here.

License
(for Texture Baker v1.x)
Price
(USD)
Buy

Non-commercial and Evaluation


(default license)

FREE



1-seat Commercial

$39


Multi-seat Bundle Commercial


($39 for first seat + $25 for each additional seat)

$39
+
$25 per add. seat


Unlimited Site Commercial
(unlimited seats for a single company,

non

-transferable)
$290